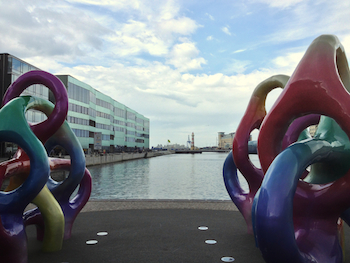 Another city pic from my wanderings. A little art, sea, and the Hurricane (a.k.a. Orkanen), the building housing Malmö University, in the background.
Its green wavy paneling covered with words and phrases makes it stand out. Add some sun, and you can see the salt-swept facade mirrored on the harbor waves.
Looks like a nice spot for a fika (coffee) to me! Enjoy your caffeine fix on the steps.