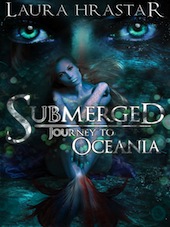 News of the nuclear explosions and volcanic activity in the Antarctic had spread across the globe. As nations braced for rising sea levels, volatile, undersea currents threatened to collapse the entire world ocean circulation.
Guided by a mysterious mer people, the isolated caravan of scuba divers swam toward Australia and Joann's marine lab. Understanding the disaster could mean their very survival, now intricately tied to the ocean itself.
Cover art: Human becoming mermaid. By Ronnell D. Porter.
Get the book on Amazon | Barnes & Noble | iTunes store
Next: the ocean reveals ancient mysteries and myth in Submerged, Azure Storm!