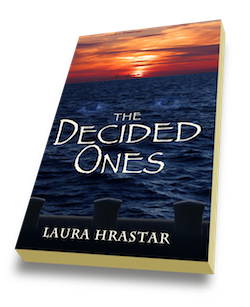 "…He touched my hand and choked out, 'Akta dig för den smidige.'"
When young teacher Meriel Wreathe leaves her family in New Hampshire and moves abroad, it's the last thing anyone ever expected her to do. Daring to leap doesn't seem to be in her DNA. But Meriel is restless, and can't imagine settling into an ordinary routine. She needs to do something that makes her feel alive.
Struggling for work in the city of Malmö in Sweden, Meriel meets Talus Ekdahl, a charming, social chameleon who offers to share the secrets of his success. He appears to have everything, yet underneath his easy smile, Talus harbors a dark and violent past, and a thirst for companionship that has eluded him for centuries. A thirst that will alter the path of Meriel's future, and force her to choose between love and her own desire to stay human…
Cover art by Ingemar Larsson.
The Decides Ones (paperback and eBook) is available on iTunes | Amazon.com
 |  Amazon.co.uk
 |  Amazon.de  |  Amazon.fr  |  Amazon.it | Amazon.es | Amazon.com.br | Amazon.co.jp. Visit the Kindle store for The Decided Ones eBook.
In Sweden, The Decided Ones (paperback) is available at bookstores — Akademibokhandeln, Science Fiction Bokhandeln, and Hamrelius Bokhandel. Not in stock at your local store? They can easily order a copy for you.
The Decides Ones is also available on Bokus | Adlibris | CDON | Vulkan Media.