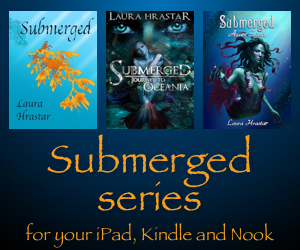 The Maldives — Six scuba diving friends find themselves stranded in the open ocean. A disaster in the Antarctic has triggered a sea level rise of catastrophic proportions. The divers must learn to survive as they seek answers to what will become of human civilization.
The Submerged series is sci-fi fantasy series (eBooks) based on current scientific evidence of global warming and the accelerated melting of the North and South poles.
The underwater adventure highlights the importance of protecting our oceans, and poses a scenario that must be dealt with in our lifetime —
The ocean covers over 70% of the Earth's surface. What will we do when it covers much, much more…?
Book one: Submerged
Book two: Submerged, Journey to Oceania
Book three: Submerged, Azure Storm
Book four: Submerged, Northern Currents
Book five: Coming in 2017!