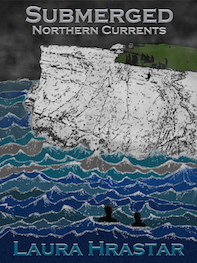 I've been waiting to make this announcement for awhile now. Book 4 of the Submerged Series is on its way! Thought I'd add a splash of intrigue to your Friday and unveil the new cover.
As you can see, it's a little darker than some of the other cover art of the series. Those northern currents are the treacherous kind and not to be taken lightly. More explanation on that later. I'm wondering now if you can guess where the scene depicted takes place. A hint: those cliffs aren't white from snowfall…
Stay tuned here for news on the launch, or visit my Facebook site for more info!